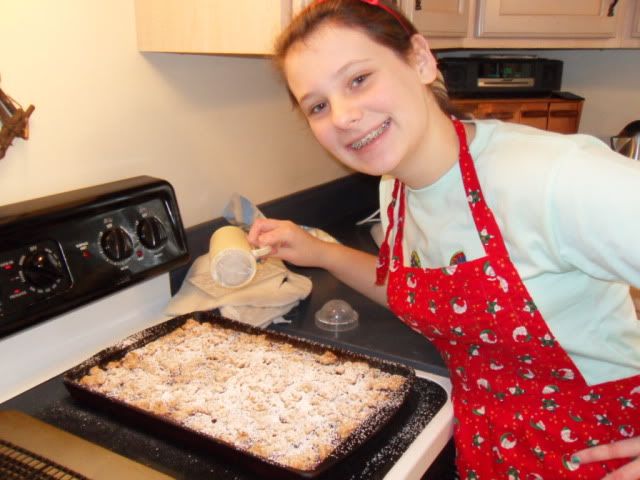 Dear Daughter is deep into her Christmas cookie baking for the baking business she's been operating since she was 9 or 10 years old. Since our first year homeschooling we had decided to take the month of December off from official school. We wanted to focus on the joy of Christ's birth and really celebrate by doing things together as a family and just relax. We had extra time on our hands and the business seemed a good way to begin a real life lesson doing something she enjoyed. And it has proven worth while.
Some years have been more successful (and chaotic) than others with orders coming from every direction. And other years she waited too long to get started and felt the consequences. Last year she decided not to sell Christmas cookies but to knit hand warmers instead. They were beautiful handwarmers but she found she wasn't disciplined enough to be knitting every spare moment. As a result she couldn't knit up as many pairs as she would have liked in order to make the profit she was looking for. But she was also wise in not taking more orders than she could handle. It was definitely a good learning experience and I'm glad she tried it.

The Baker in 2007
 So this year she is back to the cookies. She's 14 now and the cuteness of the 9yo business woman has worn off. She is at an age where her cookies MUST speak for her. Certainly there are still family and friends that order just to support her I'm sure. Thank you! Though, fortunately for her she has had a few years to build up a name for herself within certain circles and she does bake quality homemade cookies from scratch. They are YUMMY and they speak well for her! Which is good because it takes a great deal of effort for her to get up the courage to just hand out her order forms. She is not a born salesperson but I believe this can be learned.
Over the years she has gone from needing lots of help and guidance from Mom to being able to handle a large portion of the biz with no help from me. She's not afraid to call me home when she gets in a pinch though, as she did yesterday. It all worked out fine and I think she just needed me there to encourage her and get behind her and make her some lunch while she continued her work. I only needed to fold and fill some boxes and she was cool as a cucumber again.
It amazes me now that I think back to where she was when she started. Operating a business is an excellent hands-on way to learn from real life experiences. Aside from the science and math of baking, DD has learned how to choose a good recipe, how to analyze her past sales to see what her customers like and what questions to ask to learn more about what they would like to see from her. She has gotten free marketing tips from relatives with ideas for bringing out new recipes midyear. In addition she now knows how to plan for large orders and shop for the best ingredients at low prices. When DD started in her first year we made up an order form on Excel together. Her computer skills have improved since then and she is now creating worksheets to keep track of all her orders, income and expenses as well as tithes. I hope she continues some type of business endeavor going so I can show her how to polish up those worksheets to look like professional reports and get her using more of the formulas that Excel has to offer. A math program we are looking into for next year is
Your Business Math
. Although it's geared for 8-12 year olds and she can do everything involved, I like that it incorporates all of the business aspects together to make math more meaningful for her. I'd prefer and will be looking for something similar that is written for 9th-10th grade level but if I can't find anything I am going to use this program and possibly incorporate her own business into it and add some additional elements to make a full year credit-worthy program.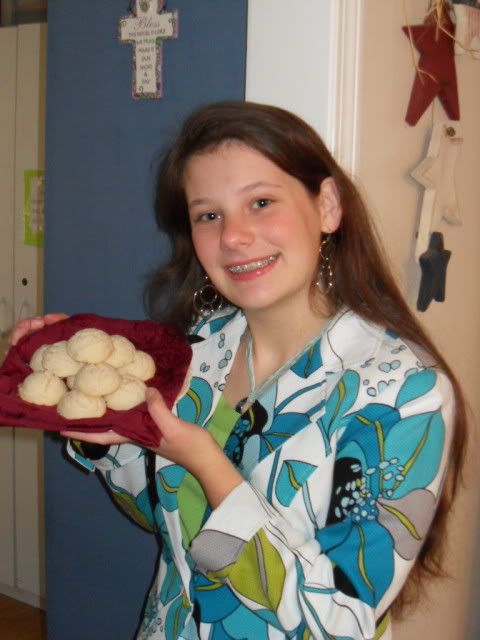 2010
 Lastly, for this season of baking, I told her I would be happy to volunteer to help as an employee but that I would not be telling her what I would do. She has to give me direction as if I were a real employee. That's a harder transition than I realized. For both of us! DD has a hard time telling mom what to do and mom has a hard time NOT telling DD what to do. We'll have to keep working on that, during business hours of course!
So although she will bake for her customers any time of year, people generally look to her for their Christmas cookie baking. Today is the last day of baking for the season. Her last delivery will go out tonight. And DD is looking forward to tomorrow...and rest.