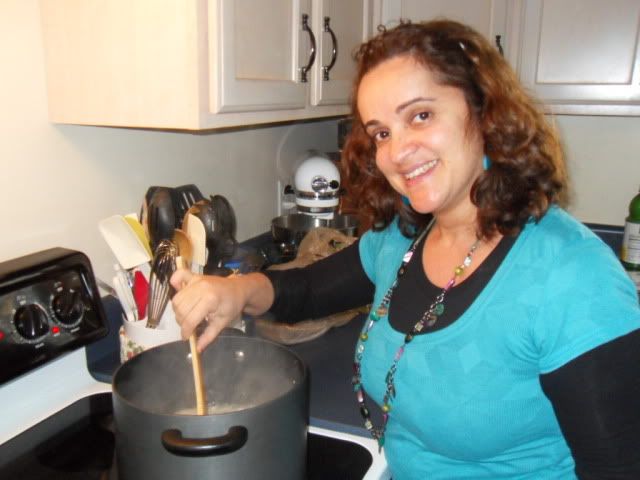 I am so glad to be back to our regular school schedule and back to KONOS co-op! We started the new year with our final three weeks of Inquisitiveness focusing on Africa. There is SO much to learn about Africa that I'm afraid three weeks really is not enough but my kids are young so I'm not going to fret about it. As long as they can get some basic information about the continent, its people and animals, I'll be happy. One of my favorite ways to learn about a people group is to try to make and eat their food so of course we included a couple recipes in our co-op day. This is my very good friend making her delicious rice with lentils. I'm not a big lentil fan but she makes them good enough to eat. Actually the kids had a big hand in the cooking by chopping the onions and pressing the garlic and measuring out the ingredients. We also made baked bananas which turned out scrumptious with peanuts, cream, brown sugar and lemon juice sprinkled on them. (See Pg 92 #244)
Here is a rundown of our co-op day:
Begin with Pledge of Allegiance and prayer
Oral presentation about pharaohs given by HOW I students (they leave immediately after to do their own co-op)
Discuss what the kids have been studying for the week. - Northern Africa
One student shares what she knows about Augustine. Locate Constantine, Algeria on the map of Africa (Page 79 activity #178)
Mapping the countries that were invaded by Arab Moslems in the seventh century A.D. (pg 79 # 181) Each child receives an enlarged outline map of Africa that he or she will be using for the entire unit. We have the kids label the map during discussion at co-op. They shade in the countries later at home.
Ramadan: Read about this month long celebration and then try to dance the dance of the gargoulette. Use Sounds of Africa cd for the music and since we are inside we put rice and beans in our pitchers instead of water. (Pg 81 # 190)
Compare Ramadan to Mardi Gras and discuss if huge indulgences before fasting are scripturally sound. (Pg 81 # 191)
Egypt: Make a hieroglyphics mural (Pg 77 # 161)
Begin to prepare snack, moms finish while kids make paper
All references are from KONOS Volume II Inquisitiveness. This is planned from an older edition so my page and activity #'s may not match up with yours but you should be able to find them based on the descriptions. Please leave me a comment if you have trouble finding them and I will be happy to help out.