...when they want to make a mess. Because really it is not their intention to make a mess. But sometimes creativity can be messy business.
I had been holding aside an egg carton for my friend that I buy eggs from and my 6yodd found it and asked if she could use it to make a craft. I almost said, "No, I'm saving that for Mrs. ..." but then I caught my words before they came. Nex I was going to say, "No, I don't want you making a big mess. I'm tired this afternoon." Don't give me a hard time folks, I know I'm not the only one who has said these things. But I caught those words before they came out too. (Isn't this shaping up to be a good mommy moment?) What I did say was, "Sure!" And then I promptly laid myself down on the couch for a nap. Now, you may be thinking this was lazy of me BUT it is the best thing I could have done for my kids.
When my son saw that his sister was doing something crafty he found an empty ketchup bottle and asked if he could make something too. So here they are, the two of them in the play/school room/office creaing their little hearts out with whatever they can find. When I ask what they will make, they answer "ships!" Dare I ask? Yes, I do...:"Are they Columbus' ships?" (We had just read about him that day!) "Yes," they answer. (Oh it is too good to be true.) They even named them the Santa Maria and the Nina.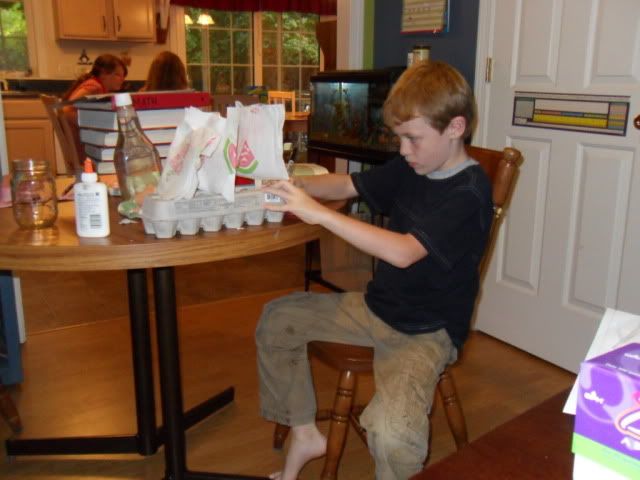 Who knew ordinary paper table napkins could become the great sails of a magnificent ship of long ago?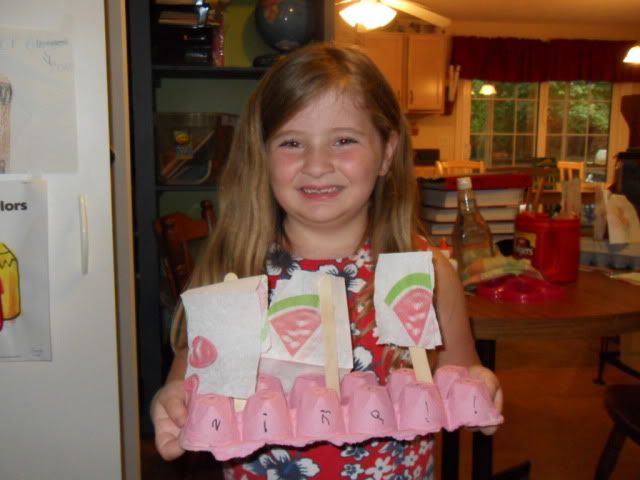 DS never used the kethup bottle but he filled it with water and it made a nice table decoration for him while he worked. hey were so proud of what they came up with and Mom didn't mess with them a bit. I know the moment would never have come out so wonderful if I had been in there putting my two cents in.