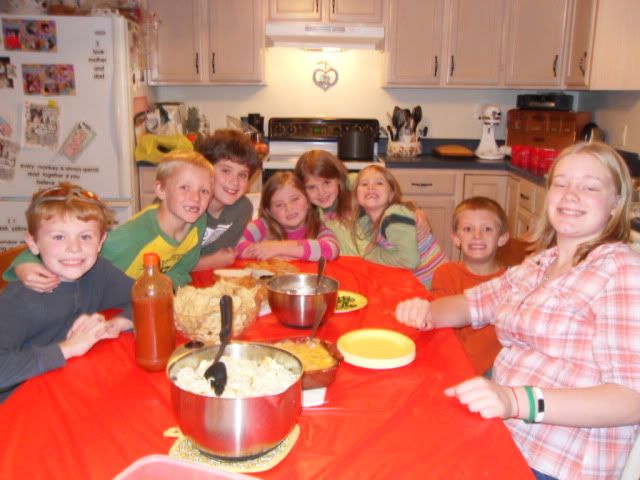 Now that the new world has been "discovered" we need move on to exploration of this new land. Er, I mean the conquering of it because that is in fact what Los Conquisadores did while they explored and went searching for gold. We started by studying the Spanish explorers and how the two cultures came together to create the Mexican food we know and love. Our table was adorned with Spanish rice, fried plantains, Mexican bean and cheese dip with tortilla chips and bread with salmorejo. Here are all the kids smiling still because they haven't tried any of the jalepeno peppers yet.
Everything was yummy and it was fun to try a few new things. Some we were familiar with and were delighted to eat them again but the
salmorejo
was a new recipe for us and I had never tried the fried plantains.
OK - we love food at co-op but it isn't ALL about food. We did have lots of discussion and mapwork before heading into the kitchen to eat.
I think at this point they were mapping the route of de Soto. Or perhaps they were looking for the Mississippi River.
Point is, we do more than eat at co-op and I have pictures to prove it.
Even the cat is learning something. Actually he kept trying to get on the map to show the kids where the route was but they just scooted him off as if he didn't know anything.
Oh well, the day was finished out with a pinata brought by one of our families and perfect for today.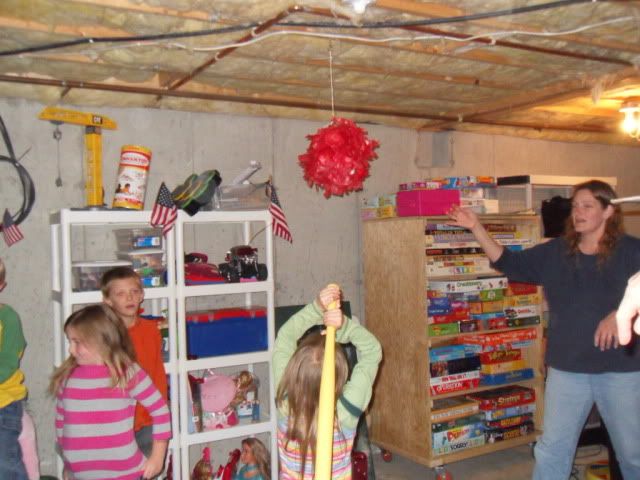 It was raining out so we had to do it inside. There's one of the pinata builders right there getting ready to swing. It's hanging kind of high because a previous hitter knocked it down and the string came out but it didn't break open so it had to be rehung by wrapping the string around it. Made the string a little shorter but the kids were still able to reach it because it did eventually get beaten down and candy went flying everywhere.