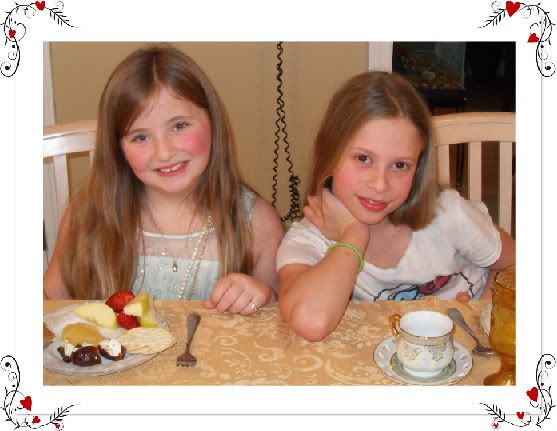 My seven year old recently earned a special play date. We have friends over often but usually they come with moms so I get play dates too but since she earned this one for good behavior when we were working on the obedience unit, I wanted to do it up right. What she wanted more than anything was a little girly tea party. And her great grandmother had just given us some really neat dishes and glasses perfect for ice cream sundaes on our last visit to West Virginia. So I insisted that the tea party have make-your-own sundaes too. She was rather easily convinced.
The girls arrived in their prettiest dresses (or tutu worn over jeans for the dress shy friend) at 10 am. Right away they set the tone for the day by watching Beauty and the Beast and then proceeding to call me Mrs. Potts for the remainder of the day.
Tea and luncheon were served immediately following the movie. Now you should know that I wanted these kids to eat a decent lunch before the big sundaes came out so healthy yet kid friendly foods were provided in the hope of enticing them to eat plenty of the good stuff. Carrot sticks, cream cheese stuffed dates, grilled cheese triangles, raisins, sunflower seeds, strawberries, apples and more were all served in pretty crystal bowls. We ate with our pinkies extended and spoke in ridiculous accents. Luncheon was superb.
Next the girls made paper flowers to adorn their sundae glasses and then to later use as a twisty tie for their parting gifts. My daughter got a Klutz paper flower making kit for a birthday gift last year and it is just filled with pretty, printed, paper petals. The girls finished their paper flowers and the sundae bar was set up and ready for customers.
After that I gave the girls some free time to play while I cleaned up a bit. They played Polly's for a bit then I rounded them up again for some organized play. My fifteen year old daughter joined us to teach us a song. We all sat in a circle with our hands out by our sides, palms up overlapping the girl's hand beside us. Then as she sang the song (something about a bullfrog) we had to take turns slapping the person's hand on our right with our left hand, all in sequential order around the circle. It was fun and reminded me of my own girlhood with the rhyming songs we used to sing while doing patty cake type hand motions.
We still had a bit of time left. One of the girls wanted to do a craft and another wanted to play hide and seek or sardines so we compromised and played each for half the time left. For a craft I pulled out something simple - stencils and pencils and let the girls make name signs for their rooms. Then we finished up the day with a rousing game of sardines. Oh I do love that game! Instead of one person counting and everyone else hiding, one person hides in this game and everyone else searches. As the kids find the first sardine, they join him or her in their hiding spot until they are all packed in tight with only one child left hunting. My son joined the girls for this game to make it more interesting.
I love days like today.