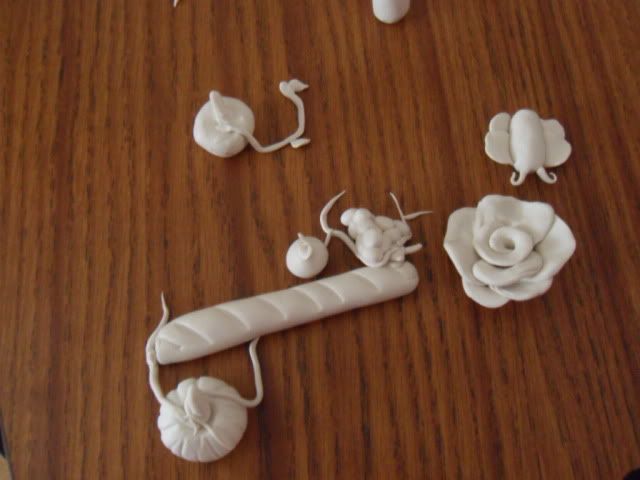 Because I have been sick for the last several days, I have decided to combine my post about the HOW co-op and the regular KONOS co-op. I'll be brief on the high school co-op and just share a picture.
The girls are still working on Hebrews in their History of the World I curriculum. For this week's co-op their focus was on the Phoenicians. Among their activities they made beads and other creations out of modeling clay (Sculpey) to mimic the glass beads made by the Phoenicians. Next week they'll paint them to make them look more realistic. For now they are just little white balls so I included a photo of some of their more interesting pieces. I think only the little pumpkin belongs to my own DD. Her friend loves artsy stuff and so spent a bit more time crafting flowers bugs and food.
In the younger co-op group we started Wisdom last week. The general portion of this unit is laid out for a two week span but we have stretched it to four weeks. I like the general portion of most units because you can really dig into the character trait being studied. Here is the rundown of our co-op time last week:
Prayer and Pledge of Allegiance
Recite memorized Bible verses for the week
Discuss Solomon and make a poster of his decisions and the consequences of those decisions (Pg 7 Act. # 10)
Label two boxes "Wise Man" and "Foolish Man." Have kids write adjectives on slips of paper and decide which box to place the words in. (Pg. 8 Act. # 14)
Brainstorm stories with wise and foolish characters in them. Choose one to dramatize. Kids plan this out on their own and perform for moms. (Pg. 8 Act. # 16 & 17)
Give the kids a pitcher only half filled with water and ask them how they would drink from it without pouring or picking up the container. Follow up with reading of Aesop's The Pitcher and the Crow (Pg. 8 Act. # 20)
Build a house on a "rock" using quick drying cement and another house on sand. Sprinkle water over the structures from a watering can and sing "A Wise man Built His House Upon a Rock" (Pg. 6 Act. # 2 & 3) We were running a bit late starting so we are hoping to squeeze this in next week. But I left it in these plans for you because it should fit into the 3 hour time slot we normally allow for co-op.
All KONOS activities listed for our co-op are from Volume II - Wisdom. Please feel free to contact me if you have trouble finding one of the activities.